Indeed, a wedding is one of the most memorable days in a couple's lifetime. However, traditional nuptial affairs might cost you a bomb due to extravagant all-day merriments. The thought of having an evening wedding comes into play to make your memorable day budget-friendly.
Evening weddings are the newest talk-of-the-town. Instead of having magnum-opus nuptials, you can opt for a simple yet sophisticated ceremony to marry the love of your life. When speaking of a wedding, the foremost thing that draws the attention of the masses is the groom's outfit.
Nevertheless, most folks would step into a rental shop to get a classic wedding suit for men. In contrast, some would go the extra mile and pay attention to every aspect of the marriage ceremony while purchasing the attire. Consider the following factors while picking a suit for your "the" day!
1. Assess the Budget
You can save substantial money by opting for an evening wedding. Yet, your outfit speaks volumes of your appearance and personality. No matter what your budget is, invest in your ensemble!
2. Decide the Dress Code for the Event
Not all wedding affairs call for an all-formal look for groomsmen suits. Though it is the preferable sartorial choice, there are more options to explore. Hence, decide the dress code for the evening wedding, keeping your preferences and likings in mind!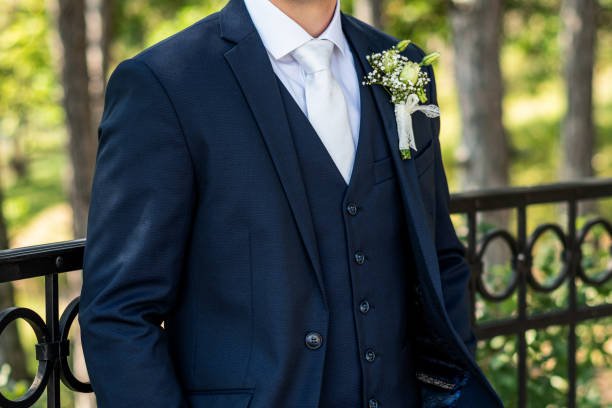 3. Formal Suit: An Epitome of Sheer Grace and Unrivalled Poise
While visualizing a formal look, a white-tie tuxedo will be an absolute staple. If you are going ahead with a formal dress code, a black tailcoat paired with trousers and a white waistcoat would be the ideal attire. Ensure that the shirt should have a wing collar, accompanied by a white bowtie, gloves, and black leather shoes.
4. Semi-Formal Suit: Classic Panache with a Dash of Swankiness
From the groom's dream outfit to groomsmen suits, the semi-formal dress code reflects easy-going styles foiled with sheer elegance. Opt for a white shirt with pleats, a black tuxedo, and a waistcoat. A black bowtie is quintessential for accessorizing the look. Alternatively, you can also pick a custom-made navy wedding suit for men.
5. Casual Suit: Modish Styles Intertwined with Flamboyancy
The casual look embodies flaunting your personal style. Ensemble choices such as black, navy, or light grey-coloured suits would work well. Complete the look with a white shirt, block-pattern tie, and a chic pocket square in serene white colour folded in presidential style. It is recommendable to opt for a tailor-made suit to stand apart.
Are you looking for a custom-made suit for an evening wedding? Head to House of Tailors to get the exact look you have been picturing. From fabric to the last stitch, get your suit made with expert craftsmanship.