Why is Linen the Best Choice for Trousers?
The usage of linen came into being around 36,000 years ago, and it was extensively used in Egyptian civilization. Thanks to King Tutankhamen's garments and curtains, the present-day generations could understand how long-lasting and strong linen fabrics are. Also, linen is a highly preferred fabric in the summer months and is the perfect choice to sew your trousers. Let us look at some facts about why linen trousers are the best choice, and how we, at our store, make them more special.
Permeability
Linen, made from the natural flax plant, is permeable to let air pass through it. As a result, it does not stick to the skin and is very convenient when worn as trousers, especially in humid conditions.
To top it, our white linen trousers are the best choice if you have to go out in the scorching heat. This is because not only are these linen trousers skin-friendly, they also absorb less heat due to their colour.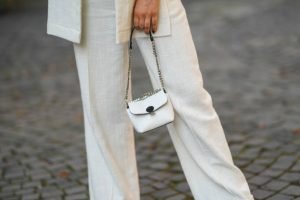 Natural look
Linen has the natural ability to wrinkle with use. However, the users hardly see it as a drawback, as it gives a natural and robust look to the trousers.
We have not improvised this natural quality by adding any other fabric while producing our linen pants for men, as working outside and the wrinkled look go hand in hand.
Customized design
Linen is a much stronger clothing material than cotton and can adapt to various designs. Our clothiers will create for you both linen trousers for men and linen trousers for women, with the exact measurements you provide.
The adept designers at our store shall make your desired fitting style, be it regular, tapered, slim, or any other design you prefer. You can choose amongst a wide variety of colours for making your customized linen trousers.