Dubai Bespoke Tailors
Come to our showroom for a personal, one-on-one consultation for the full House of Tailors bespoke experience in a comfortable and welcoming environment.
At House of Tailors, our clothiers give each of our customers our undivided attention to learn more about you, the style and fit you are looking to achieve, and your preference.
During the one-to-one consultation, we review an array of fabrics, style options, what best fits your body, and inspirations that you may have in mind.
Feel free to call us at +971 56 393 3969  or 
Chat on WhatsApp and we will be more than happy to address your queries.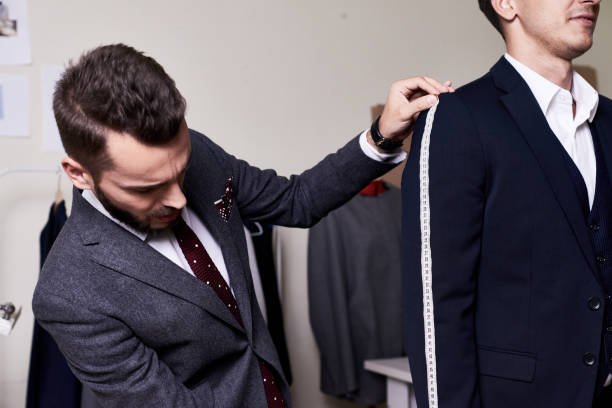 FAQs
Do you offer home or office appointments?
Yes, we offer at-home and office consultations. All you have to do is book an appointment online with us, stating your preferred time and location, and our team will visit your place.
What fabrics do you offer?
Our luxuriously extensive fabric range is sourced from the leading fabric houses in UK, Switzerland, and Italy. We have a supreme assortment of internationally-beloved fabrics such as linen, wool, cotton, silk, woollen flannel, satin, and much more. 
Do you offer online meet with the stylist?
Yes, we offer the facility of online consultation with our personal stylist. 
Do you offer virtual appointments?
You can visit our "appointment" section on the website and book a virtual consultation session with us. 
How long does an appointment take?
Once you book an appointment with us, considering your preferred time slot and our availability, we will contact you within 24 hours. 
Do You Make Ladies' wear?
Yes, we create a varied range of ladies' wear, such as complete business attire, fashion suits, business suits, occasion suits, and coats & jackets.
Can I provide my own fabric?
Yes, you can provide your own fabric to us, and our tailors will create a stunning masterpiece out of it. Alternatively, you can also choose from our versatile range of luxe fabrics. 
What can I expect from my visiting tailor?
The visiting tailor will come to your place and ask about your style and design preferences. They will then take precise measurements of your body, keeping your posture and stature in mind. Our expert tailors also suggest which silhouette will complement your body type more appropriately. 
Do you offer remote fittings?
We have the facility of remote fittings, which can be availed as per your time and convenience through our online consultation session. 
What are your opening hours?
Our opening hours are between 10:00 am to 8:30 pm throughout the week. However, we cater to our clients on Fridays only through an exclusive appointment beforehand. 
Are you open on weekends?
Yes, we are available from 10:00 am to 8:30 pm throughout the week. However, we only facilitate our customers on Fridays through a prior online appointment.
Where are you located?
You can visit us at Suite 507 at The Binary by Omniyat Tower, Business Bay, Dubai, UAE. 
Which are the location you serve?
Dubai, Sharjah, Abu Dhabi, Doha, Riyadh