Weddings are often called the bride's biggest day and if we only listened to what fashion
magazines said then that would be true. As a groom you are free to show up in a plain coat suit for
your marriage. But, consider that your wedding is a once in a lifetime event. You've invested your time and your money into it. Not just that, on a personal level everyone wants to look their best in their photos.
So wouldn't you want to be proud of what you wear? Wouldn't taking part in your own suit
selection make your wedding more memorable? If you think the same, this quick style guide will help you plan your wedding suit. Let's get started.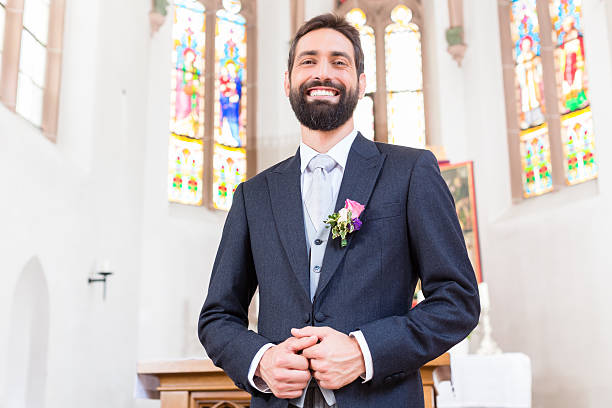 1) When To Plan
Start planning for your wedding suit at least two month in advance. The benefit of having a long
timeline is that you can consider different style options and still have the time to make
adjustments after the suit is brought.
2) Rent Vs Buying A Suit
Rental suits are often a cheaper and a quicker alternative to buying one. But just remember you
are going to be in every wedding photo. You are the groom after all. A tailor-made suit is created
to flatter your unique body, whereas a rental suit will look too tight or too loose at places.
3) Must Have Accessories
Ties
Safe tie colours include black, grey, burgundy and navy. Ties wrinkle easily so be careful when you
travel to the venue.
Tie Clips
These keep your tie in place when you hit the dance floor. They are an elegant accompaniment for
your ensemble. Tie clips can be embossed to look unique.
Tie Chain
It works just like the tie-clip and doesn't create creases on your tie fabric. You can get really fancy
with a tie chain by having a unique ringlet design and opting for gold or silver.
Cufflinks
A pair of cufflinks add a nice flair to your sleeves. The only style rule to follow is that its colour
should match the other metal accessories in your ensemble.
Pocket square
The pocket square is a must have accessory for your suit. You can pick the colour, pattern and
texture that compliments your suit. You can even go with something flashy and still maintain a
semi-formal look for your wedding suit.
4) Fabric
Next, choose your coat and shirt's fabric based on the season. Luckily, there are only two seasons;
winter and summer. You don't have to worry about seasons like fall, spring, or autumn that are
common in western countries.
For a summer wedding, it's best to go with wool or cotton. These fabrics are excellent at absorbing
moisture. Avoid polyester or rental suits made from polyester blends since you'll end up with ugly
sweat patches during the wedding.
For a winter wedding, wool is again a viable option. Woollen sweaters exist for a reason after all.
Flannel is another natural fabric that looks great and protects you from the cold. Flannel is the
material Canadian lumberjacks use for their coats during harsh winters.
5) Final Thoughts
There is more than one way to look great! Wedding suits are versatile.
Let's say you want your suit to compliment your bride's dress and make her day even more
special. You can do that with simple changes like wearing a shirt, tie or pocket square that
matches the colour of her dress.
So however you decide to get your suit done. Ensure that it's a memorable part of your wedding
story. A professional tailor can create a suit that brings out your best appearance. Here at House
of Tailors, we deliver custom-made wedding suits for men within a week. You don't even need to
visit our store. Everything can be done from the comfort of your home.