Tuxedo is one suit that every one of us wears it atleast once in a life time. And why not, the crisp structure of the tuxedos oozes charm and elegance. Although, if you happen to choose a wrong tuxedo the look might not turn up to be as good as your expectations. The problem is most of the people do not wear a tuxedo very regularly and so are dependent on others for advice while buying a tuxedo. Although, not necessarily all these fashion advisors have a detailed knowledge about tuxedo for men as well.
So we have decided to create an easy style guide for you to understand the type, purpose, designs, materials, structure and right ways to wear a bespoke tuxedo. Basically, this is your guide to understand how to get a perfect made to measure tuxedo. And most importantly how is a tuxedo different from a suit. Tux or tuxedos are usually worn in the evening or night functions. They carry more formal look as compared to the regular suits and thus don't go along well with the day time functions.
The most distinguishing feature of the tuxedos is the satin lapel. Mostly you will find tuxedos in monotone or dual colour combination. The next important feature of a tuxedo is the jacket. The only two acceptable jackets in formal or business attires are he peak-lapel jacket in the single or double breasted jackets, and shawl collar jackets. In the recent years, notch lapel jackets have gained a lot of popularity in formal attires. The lapel widths wary with the changing styles.
Here are some popular styles in tuxedos that can never go wrong.

1. White Tuxedo
A classic white tuxedo with black lapel is a timeless example of fashion. Although try to go for a lux material and complete the look with proper accessories. Going for a cheap material or ill-fitted white tuxedo can land you in a event looking like a bar tender.

2. Blue Tuxedo
If you have slightly vibrant taste in fashion then a blue tuxedo makes a great choice. It doesn't fit in the usual black and white coloration and the royal blue shade exudes elegance. Style your blue tux just the way you would style a black tuxedo. That is with crisp white shirt, cuffs and black leather shoes.
3. Velvet Tuxedo
If you are fashionably forward and love to rebel against the laws of formal attires, then a change in material is a great way to achieve that. A velvet tuxedo stands out from the crowd, yet doesn't disturb the crisp structure of the tuxedos. A satin lapel enhances the entire appeal of the velvet tuxedo.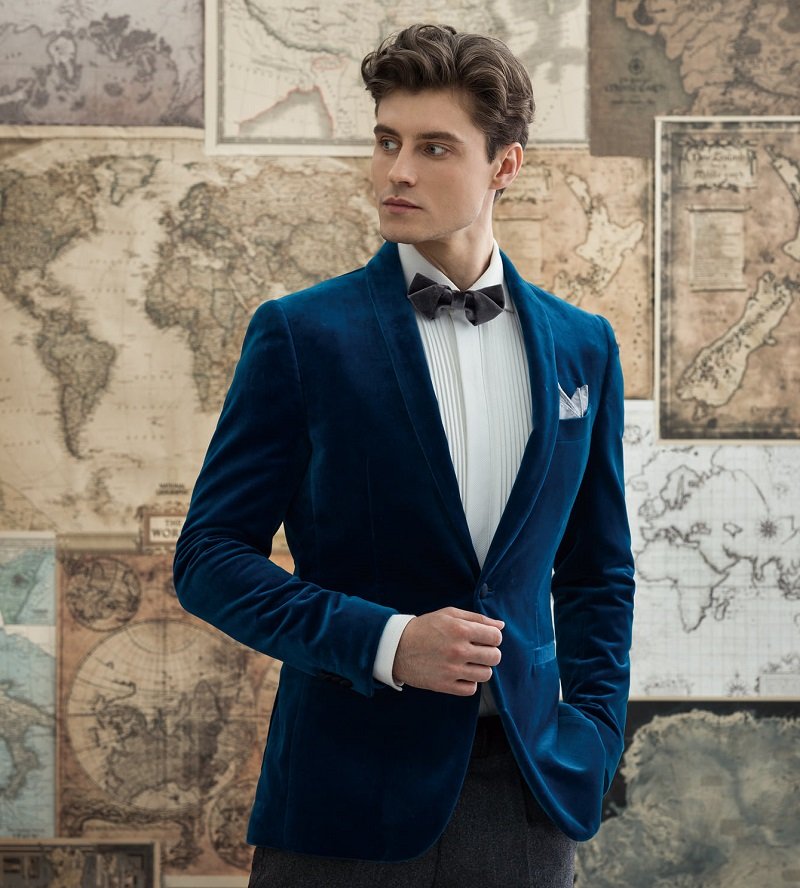 4. Peak Lapel Tuxedo
A slightly toned down version of the formal tuxedo is a peak lapel tuxedo. This is where the fabric moves up and towards the face. This is considered as the most traditional of the suit lapel styles, you will see peaked lapels on morning coats and other men's formal wear.
5. Two Buttoned Double Breasted
This is the boldest style in the tuxedos. Traditionally double breasted jackets are considered as perfectly formal attires with the most formal collar that is a shawl collar. It is very crucial to wear the right tuxedo at the right place. A tuxedo is never casual. But it is always a dynamic and fun suit to wear. This special aspect is what makes it a tradition as an outfit to wear for a special occasion.