Linen suits are versatile and timeless that reflect style and elegance blended with comfort. A linen suit embodies a charm that would light up the atmosphere. However, many questions pop up in mind, such as whether linen suits are ideal for formal meetings or one can wear them for casual occasions. Let us dive deep and resolve such persistent dilemmas to help you style linen suits with confidence and dynamism.
Attaining a Perfect Fit is Quintessential
Since linen is a fabric that tends to wrinkle, attaining a proper fit is necessary. A well-fitted suit personifies a robust look, irrespective of the fabric type. The bespoke linen suits are measured, designed, and cut precisely for you. Hence, they keep the fabric quality and appearance intact for many years to come. If you aren't ready to maintain 100% linen, you can always opt for linen blends which are much more durable & easy to care for.
When to choose a Linen Suit?
A linen suit is a classic attire that everyone can pull off gracefully. Part of the reason it is so popular is that it can be worn in all seasons. Linen suits are lightweight and breathable, making them a wardrobe staple for summer. Linen-wool blend is ideal when you want a refined taste of fashion during winter.
Casual Outdoor Events
The beach or outdoor morning weddings, reunion parties, or brunches are ideal events to opt for a linen suit. They will make you look cool, metaphorically & literally. This is a good enough reason to invest in a linen suit for men. By wearing one, you will stay relaxed and comfortable while everyone is melting like a popsicle in their polyester-made outfits.
Summer-y Concerts and Open-Air Enactments
Summers are for living life to the fullest. Opt for a linen suit for a subtly formal look for night concerts to open-air theatrical performances. Relishing such merry times with your loved ones can be more pleasant and comfortable in a linen suit, thereby maintaining your fashion-forwardness.
Workplace and Formal Occasions
The linen suit for women and men has become the latest talk-of-the-town clothing choice for the workplace. From a hectic day at work to formal meetings and lunches, nail them off with a linen suit. It amalgamates formal aesthetics with fashionable design to turn the heads wherever you go.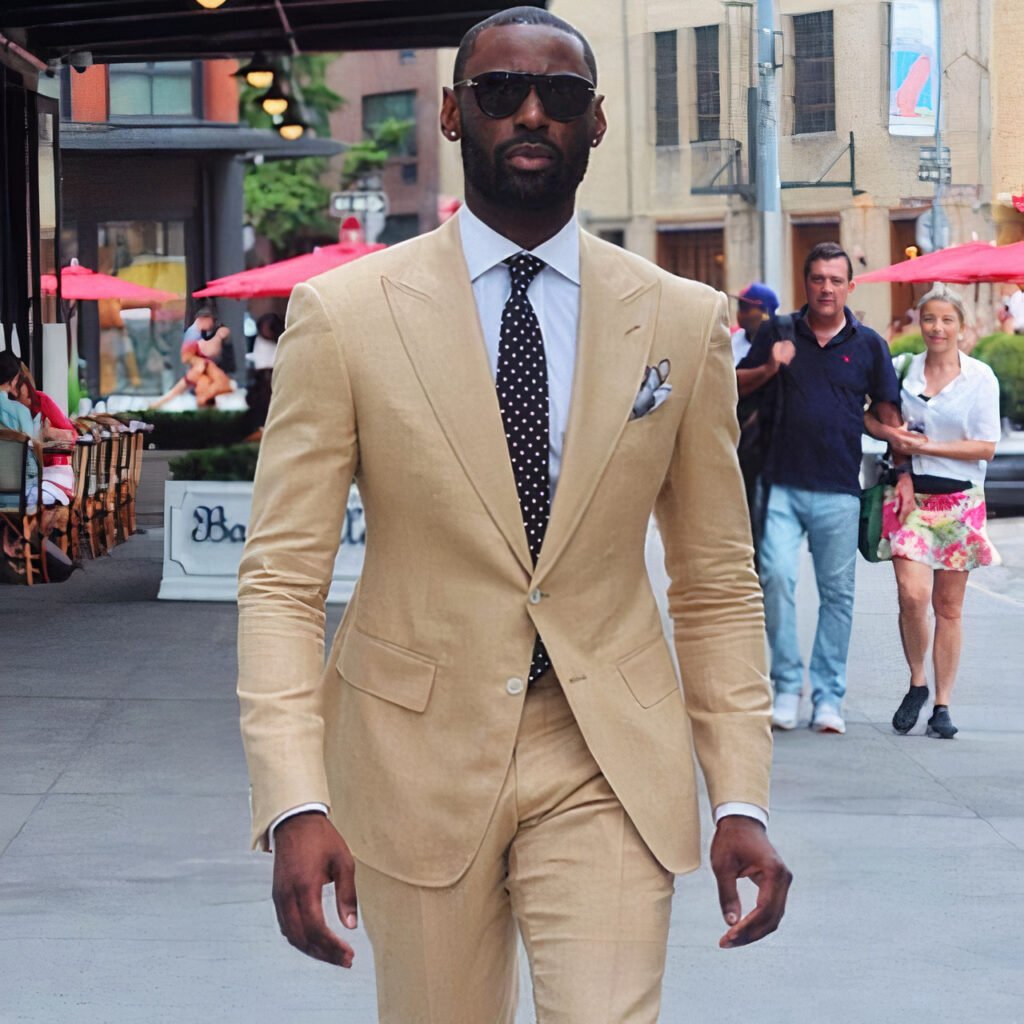 A Cosy Night Out
A gracefully cut linen suit would get the spotlight on you as you go for a dinner at your favourite hotel, order cocktails at a bar, or enjoy a dance with your significant other. The linen suits reflect optimism and sheer elegance to make you stand apart without going over the top.
Style and Accessories the Linen Suit for Optimal Grace
One important thing while wearing a linen suit is how you dress it up. Consider your personal style and pick what works best for you. The styling of linen suits will be influenced by what kind of occasion you will be attending. They effortlessly accentuate pastel and neutral colours.
Keeping the aesthetics casual
Ditch the tie and opt for the open-button collared shirt to complement the suit. Skip wearing the belt to style the linen suit as an open jacket. For a casual look, wear loafers to nail your outdoor merriments modishly.
Pulling off the formal look
For adding a formal touch to your linen suit, wear a vest. Give a final touch to your outfit with an exquisite tie for a charmingly professional look.
Summing Up
Linen suits could be one of the most fabulous additions to your closet. They are sophisticated, trendy, and tasteful outfits that go well with wide-ranging occasions. Make an unforgettable impression with custom linen suits from House of Tailors! Schedule an appointment to get your dream suit made with us.