Staying stylish and comfortable during the summer months can be a challenge, but a linen suit offers the perfect solution. With its lightweight and breathable fabric, a linen suit is a must-have for any warm-weather wardrobe. Whether you're attending a wedding, a garden party, or a summer soirée, here are some tips on how to style your linen suit this summer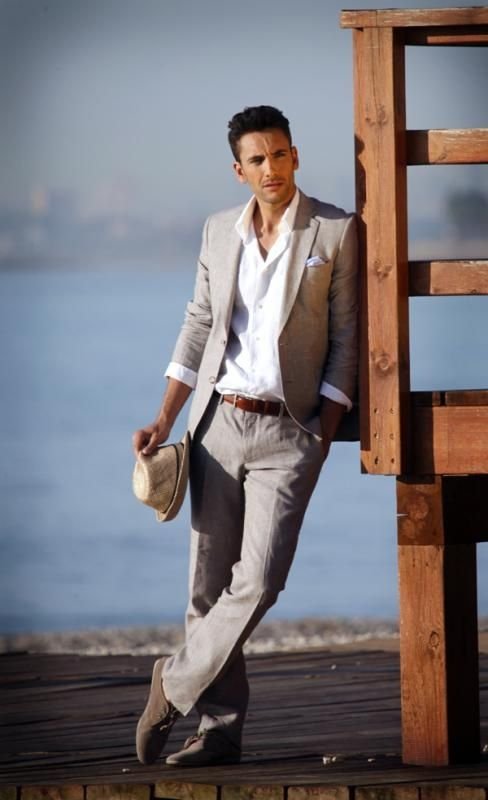 Image source: https://www.bows-n-ties.com/
Embrace Light Colors
Linen suits look best in light and neutral colors that reflect the sun's rays rather than absorbing them. Opt for classic shades such as beige, light gray, pale blue, or even a soft pastel hue. Light colors not only keep you cooler but also exude a fresh and relaxed vibe that complements the season.
Choose a Well-Fitted Suit
While the relaxed nature of linen can make it forgiving in terms of fit, a well-tailored suit always looks more polished and put-together. Avoid an overly loose fit, as it can appear sloppy. Instead, aim for a suit that skims your body comfortably without being too tight. Tailored suits not only elevate your style but also enhance your overall appearance.
Opt for Breathable Shirts
Pair your linen suit with lightweight and breathable shirts to keep cool during the hottest days. Crisp cotton dress shirts in light colors are an excellent choice. For a more laid-back look, consider a linen or linen-blend shirt. The natural texture of linen shirts complements the suit and adds to its summery appeal.
Ditch the Socks
To embrace the casual elegance of summer, consider going sockless or wearing no-show socks with your linen suit. This look is particularly suitable for less formal occasions, and it adds a touch of contemporary style to your outfit. Just ensure your shoes are well-fitted and comfortable to avoid discomfort.
Choose the Right Footwear
The right shoes can make or break your linen suit ensemble. For a formal event, opt for classic brown or black leather dress shoes. Brogues and loafers are versatile options that strike the right balance between formal and casual. If you're dressing for a more relaxed occasion, consider suede or leather sandals, which offer both comfort and style.
Accessorize Thoughtfully
Keep the accessories minimal and light to complement the effortless charm of your linen suit. A classic leather belt that matches your shoes adds a touch of refinement. Consider a linen pocket square in a complementary color or pattern to add a subtle flair to your outfit. Skip the tie for a more relaxed look, but if the occasion demands it, choose a lightweight silk or linen tie.
Roll up the Sleeves and Pant Legs
For an even more relaxed and laid-back appearance, roll up your sleeves to just below the elbow. This small detail instantly adds a touch of summer nonchalance to your linen suit. Similarly, consider rolling up the pant legs slightly for a more casual and beach-ready look.
Conclusion:
Styling your linen suit this summer is all about embracing the lightness and comfort of the fabric while maintaining a touch of sophistication. By opting for light colors, ensuring a well-fitted suit, and pairing it with breathable shirts and appropriate footwear, you can create a versatile and stylish ensemble suitable for any warm-weather occasion. Embrace the carefree spirit of summer, and you'll be turning heads with your impeccable linen suit style.