A groom wants everything to be perfect for his wedding day, from the venue to the vows and especially the attire. With its blend of modern extravagance and traditional charm, Dubai sets the stage for a magnificent wedding. Thus, the choice of fabric for your wedding suit is crucial, considering the hot climate of the city. Let us explore the world of exquisite fabrics to help you look sharp and stay comfortable on your big day. 
Six Suit Fabric Every Groom Should Swear By
Having the perfect wedding suit is a monumental task for any groom. It should not only reflect your personal style but also keep you relaxed under the Arabian sun. That is where choosing the suitable fabric becomes an indispensable part. Here are the six fabrics that bring glory to the groom's suit without compromising style or comfort. 
The Lightweight, Breezy Feel of Linen
Dubai's unforgiving sun can make any groom break a sweat, but not if you are wearing linen. Linen suits are the top choice for Dubai weddings. This natural fabric is incredibly breathable, allowing air to circulate freely. It is like wearing a cool, comforting breeze. Opt for classic white or soothing beige to exude relaxed elegance, ideally in tune with the Dubai wedding vibe.
Staying Cool and Classy with Cotton
Cotton is another champion fabric for Dubai's hot climate. Similar to linen, it is lightweight, breathable, and keeps you cool even in the midst of the desert sun. Consider light grey, pale blue, or pastel shades to create a chic and comfortable look. Pair your cotton suit with a crisp white shirt, and you are ready to conquer your wedding day in style.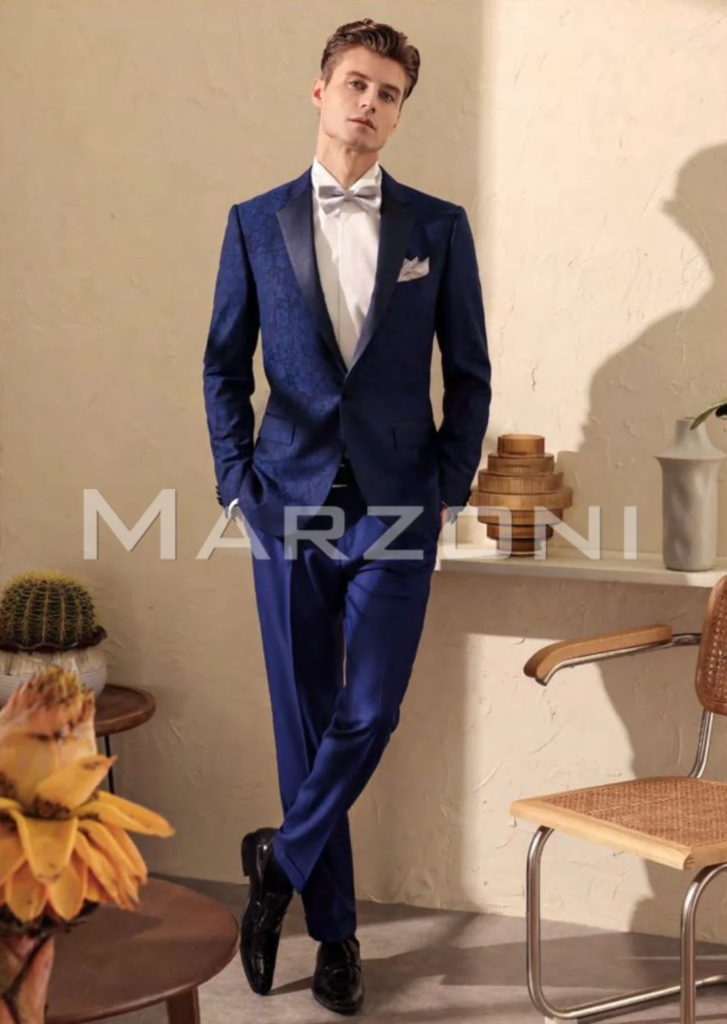 Embracing All-Weather Luxury with Wool Blends
While Dubai's weather may be scorching during the day, evenings can bring a welcome drop in temperature. Wool blends are your versatile choice. They keep you comfortable, even when the sun is blazing, and provide warmth when the mercury dips. Choose muted colours like charcoal or navy for a timeless and sophisticated appearance.
Luxuriate in the Royalty of Silk
For grooms who want to indulge in sheer opulence, silk is the fabric of choice. A silk suit epitomises luxury and refinement, owing to its blissful texture and feel. Although silk may not be the most breathable fabric, it is perfect for evening weddings when the temperature is milder. Explore rich, dark colours like burgundy or midnight blue to infuse regal elegance into your ensemble.
Keeping it Cool and Chic with Tropical Wool
Tropical wool is a lighter version of traditional wool, perfectly suited for Dubai's climate. It keeps you comfortable during the day while ensuring you stay snug when the evening breeze rolls in. You can pick a tropical wool suit in hues like light grey or sandy beige for a polished look. Such shades make you stand apart without leaving you feeling overheated.
Donning the Vintage Breeze with Seersucker
Dubai's sweltering weather demands fabrics that keep you at ease, and seersucker excels in this department. Its unique puckered texture creates natural air pockets, allowing for excellent airflow. This means you will not feel stifled or sweaty during your wedding day festivities. Besides, seersucker exudes an irresistible timeless charm in colours such as light blue and classic striped patterns.
The Final Words
Your wedding day is a once-in-a-lifetime event. Hence, looking and feeling your best is an absolute necessity. The six fabrics mentioned above are ideal for crafting a custom-made suit to celebrate your love story. After all, nothing speaks sophistication and style like a well-tailored suit made to perfection with these fabrics.