Summer is here, and with it comes a new set of challenges for anyone who wants to look sharp in a suit. The heat and humidity can turn an elegant and refined outfit into a sweat-drenched disaster, making you uncomfortable and self-conscious.
Choosing the suitable fabric can make all the difference in terms of comfort, style, and functionality. Summer-friendly fabrics will keep you calm, relaxed, and wrinkle-free, be it summer weddings, business meetings, or any occasion where you need to look your best. This guide introduces you to the best fabrics for men's suits in Dubai to get you through the sweltering weather.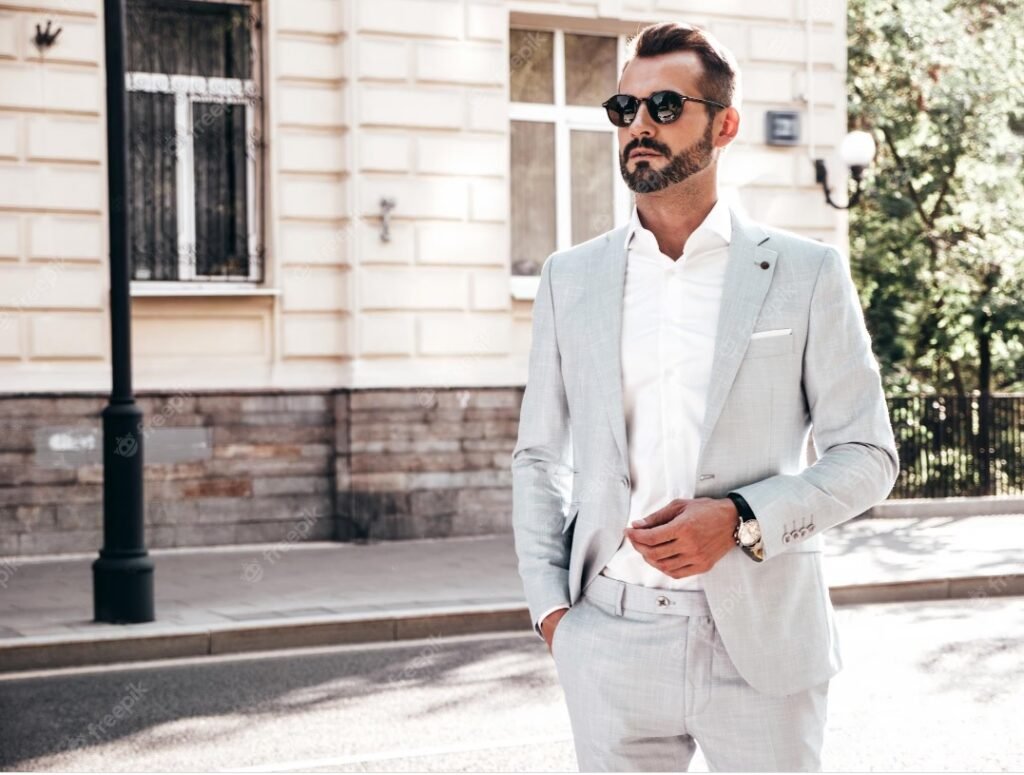 7 Fabrics that Are a Perfect Pairing for Hot and Humid Days
Do you dread the thought of attending significant events in the summer, knowing that you will be sweating through your expensive outfit? Fret not as House of Tailors, Dubai has scouted the best fabrics crafted to offer comfort, even in the most scorching conditions.
Linen:
Summer is all about embracing a more relaxed and carefree style, and there is no better fabric for this than linen. Its natural texture and casual vibe add an effortless coolness to your look. Linen's moisture-wicking properties draw sweat away from your skin, leaving you feeling refreshed and dry, even in the most oppressive heat.
It has an open weave, which increases airflow and promotes ventilation, making it an ideal fabric for hot weather. Moreover, linen suits have a timeless elegance and refined texture, which goes well for beach weddings, business affairs, and cocktail parties.
Seersucker:
This fabric is like a refreshing breeze on a hot summer day. It has a unique texture and relaxed fit, making it the ultimate summer fabric for the stylish and sophisticated gentleman. Seersucker has a puckered texture for increased airflow and breathability, while its lightweight material keeps the wearer at ease.
Its distinctive texture and subtle stripes add a playful touch to your wardrobe, making it the perfect suit fabric for casual and formal occasions.
Cotton Gabardine:
When it comes to summer suiting, cotton gabardine is a no-brainer. The cotton fibres used to create gabardine are tightly woven, resulting in a durable and wrinkle-resistant fabric that holds its shape well. It's natural moisture-wicking properties and lightweight texture contribute to a fuss-free summer dressing, no matter what the day brings.
Gabardine is easy to care for and machine washable, making it a practical choice for those who value low-maintenance clothing. The cotton gabardine suits are appropriate for both casual and formal settings.
Mohair:
It is a natural fibre derived from the Angora goat's hair. This fabric feels feather-light on the skin and allows for better ventilation. Mohair suits also have a luxurious sheen that adds to their visual appeal. Their sleek and modern look is sure to turn heads wherever you go.
Besides, mohair is wrinkle-resistant, which means that it requires little to no ironing. This makes it a practical choice for those who want a low-maintenance summer suit that always looks polished and put together.
Tropical Wool:
It is designed to be lightweight and breathable while maintaining its structure and shape. Tropical wool is made from a blend of wool and other fibres that help to regulate body temperature.
It absorbs sweat and moisture from the body, allowing it to evaporate quickly and leaving the wearer feeling dry and refreshed. This makes tropical wool suits an excellent option for long days at work or outdoor events where you want to stay comfortable and presentable.
Summary
The soaring temperatures and high humidity levels can turn an enjoyable summer day into a sweaty, uncomfortable experience. Wearing summer-appropriate fabrics like the ones mentioned above will help you stay cool while maintaining a sharp, professional appearance.
Fabrics like cotton, linen, and lightweight wool are ideal for breathability, moisture-wicking, and optimal airflow. It is essential to consider the suit's colour, fit, and ventilation to look and feel your best during the hottest months of the year.