The essence of wedding suits is to make the groom look dapper and handsome on his wedding day. It should be a reflection of the man that he is, and it should be tailored to his personal style. Groom outfits are a tricky part of the wedding planning process. There are no set rules to follow, and finding the perfect outfit can be a hassle.
Many different variables go into choosing the perfect groom suit for you, such as the occasion, the weather, and your personal style. Finding something that fits your personal style and works with your body type can be tricky. We have gathered some of our favourite ideas to help you find the idyllic suit.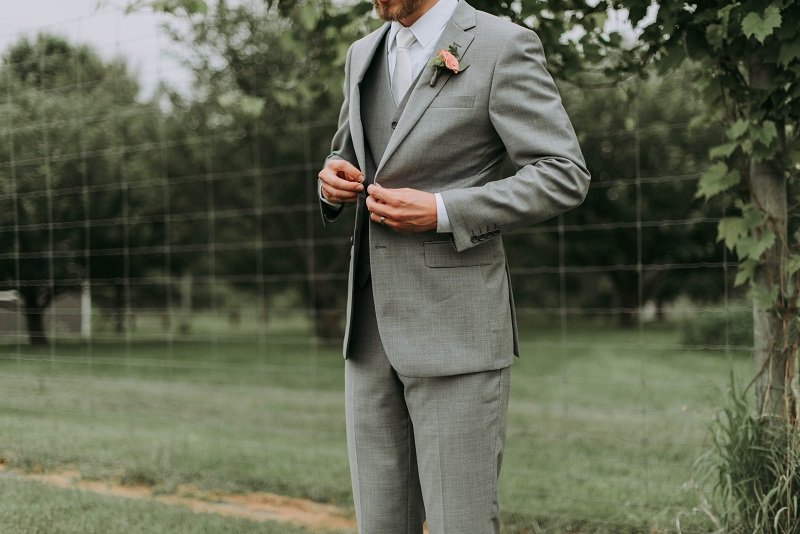 What You Need to Look for While Selecting Groom Suits
Type of Suit: As per your style preference and comfort, you need to determine which type of suit you will wear at the wedding. The most common choices are tuxedos and three-piece suits. A tuxedo is a long-sleeved, single-breasted jacket with trousers and a matching vest. It is usually made of black or white fine wool serge, although some are crafted with silk, linen, or other fabrics.

A tailored suit is a three-piece suit with a jacket, trousers, and vest in one piece. The pieces are sewn together to fit the individual wearer's shape. You can also wear tailored groom suits to reflect your delicate taste in fashion. They are typically cut to fit close to the body, which makes them look more formal than other types of suits.

Suit Color: The suit's colour also depends on the theme of the ceremony. If you are attending a black tie event, you may want to wear black or navy blue suits with white shirts and ties. On the other hand, opt for lighter shades like grey, subtle blue, or white suits for an outdoor wedding in summer and pair them with light-coloured shirts and ties.

Accessories to Complement the Suit: In the world of fashion, there is a lot to choose from. Likewise, it is essential to accompany the groom's suit with matching accessories for a more graceful look. You can wear a tie, pocket square, or cufflink to make your presence powerful and unnoticeable.
You can choose a patterned tie for a bold look or go for solid colours like black, navy blue, and grey. A pocket square adds colour and texture to the outfit. You can choose from different materials such as silk, linen, cotton, or wool, depending on what suits your style best.
The Concluding Thoughts
The most appropriate suit for a groom is the one he feels most confident in. You must consider your physique, type of fitting and the aesthetics you need and decide accordingly. The silhouette of a suit is determined by the cut of the jacket and trousers and how they are constructed. Therefore, the ideal suit would be the one which perfectly embraces your body, drenching it in unappalled sophistication at your wedding.