Linen is the go-to option when the temperature rise and you need something utterly comfortable and relaxing to wear. Especially if you are a working professional, getting linen suits is the most appropriate decision. Layering up with linen wouldn't raise the heat, and as the fabric is comfortable, you will not feel stuck in your clothes.
Linen offers multiple other advantages, making it a preferred fabric option for summer amongst men and women. The suits that come in linen give a sorted professional look and save you from the scorching sun. Hence, there is nothing denying the fact that you can blindly opt for linen in summer for your professional look. However, to make the most of this fabric, you need to know how to wear it well and to take good care of it.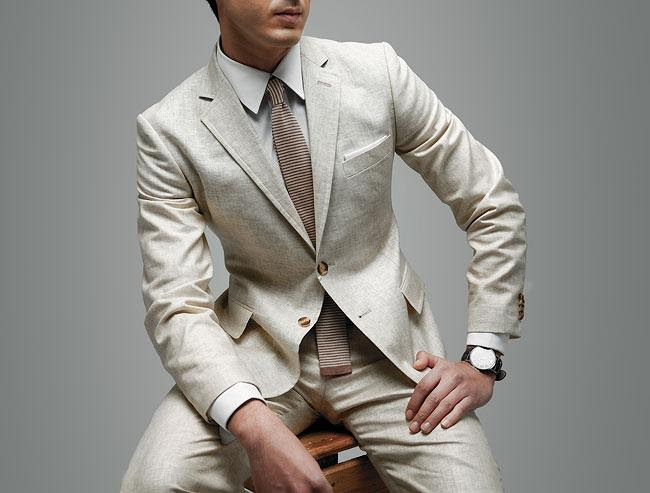 Tips for wearing Linen suits
Whether you are looking for linen suits for men or women, having a fair idea of how to wear them is essential. Refer to the expert tips below to learn to wear your linens correctly.
There are multiple linen varieties available in the market. You can get a fabric with a blend of cotton or other materials, but it is always advisable to invest in pure linen. It might cost a bit more than other options, but it is worth the price.
Colors that look good in linen are beige, dark blue, Marine, Khaki, and limited other options. However, you should avoid going for black as it is not apt for linen.
Make sure your suit fits you well and complements the fabric nicely. Consult the experts to get a perfect fit, and you can enjoy comfort like never before.
Accessorize your linen suit with the right accessories to enhance the entire look. For example, you can go for dusty loafers or semi-formal shoes that maintain professionalism and compliment linens.
Once you know how to wear linen suits for women or men, the next thing is to learn how to care for them. You would obviously want your suit to be an asset in your wardrobe and look as good as new for a longer time. So let us discuss some fabric care tips to help keep your suits in crisp condition.
Tips for taking care of your linen suits
https://www.wikihow.com/Wash-a-Linen-Jacket
You can machine wash the linens in a super gentle washing powder or liquid. However, when it is about your suits, you should prefer sending them for dry cleaning to keep the fabric crispness intact.
Never wring the linens to remove excess water or hang them in the sun for a long. All this will impact the fabric and make it look dull and old soon.
Always steam-iron your linens. If possible, send them to the professionals for steam or moisture iron. Trying to iron your linen yourself can impact its newness, and you will not be able to wear them to meetings or conferences again.
These are the simple yet effective tips to help keep your linen suits in the best condition. So, go ahead, shop more linen, use these tips to wear and care for them and make them an asset to your wardrobe.