Not many men like to wear something out-of-the-box, especially when it comes to formal wear. On
the other hand, most gentlemen like wearing what the majority are wearing lest they receive any
unpleasant look from the beholders. Notwithstanding, some men prefer experimenting with their
attires instead of following conventional patterns. These men are confident with their garments and
believe in their dressing style.
One such attire that this category of gentlemen may prefer to wear is men's double-breasted suits. If
you are among those who wish to wear this type of suit and want to know about it in detail, you are in
the right place. We have covered in this post the fundamentals of wearing a double-breasted suit that
you will find helpful.
What is a Double-Breasted Suit?
As the name suggests, this kind of suit is one having two overlapping flaps on the front with double
columns of buttons. One can pull over the flaps in either direction according to preference. Moreover,
these suits have a cinch-in method to highlight the shoulder width and make the waist look slimmer.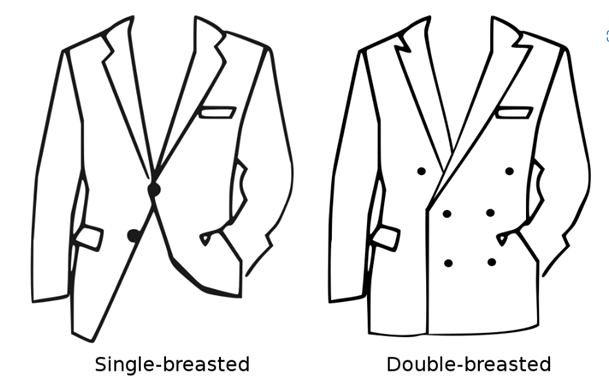 How to Wear a Double-Breasted Suit?
While wearing a suit of the subject category, one needs to keep the following points in mind to leverage the purpose of choosing this attire.
Fitting – The suit should be perfectly fitting as it is the key aspect of this category. Men often wear this clothing to highlight their V-shape physique. Thus, the suit must be custom-made according to one's measurements.
Colour Combination – Regarding colours, the rules are the same as conventional suits. One should select complementary colours for the shirt and trousers, which communicate a good dressing sense of the wearer.
Garment Detailing – The detailing in men's double-breasted blazers plays a crucial role in deciding their overall appearance with this attire. These include high armholes and trim sleeves that taper towards one's wrists. It is to avoid the look of sleeves clinging to the armpits. In addition, lapels with wider peaks are the perfect choice for these suits, emphasizing the person's height.
Comfort – The inability to carry clothing shows to the beholders. So, one should be comfortable while putting on this garment.
The Closing Thoughts
A suit of this type is most appropriate when you want to grab everyone's attention at the gathering. Therefore, wearing a black double-breasted suit is perfect at a friend's wedding, when you want everyone to gaze at you. Likewise, wearing this suit at a funeral is not a good selection. Moreover, one must consider the above facts while wearing this attire and, most importantly, be confident while carrying it.