The linen suit is an evergreen sartorial piece to express your personal style without being too flashy or over-the-top. A linen suit is made from pure linen or cotton and has an all-over pattern woven into the fabric. This pattern gives it a unique texture and appearance you won't find in other fabrics. With the versatility of these suits, they are perfect for those who want to look polished and put together at all times.
Linen suits are becoming an increasingly popular option for weddings. They are also easy to care for, making them a good choice for people who want to wear something long-lasting without spending too much money. One can wear them casually or formally, making it easier to match such suits with different shoes and accessories.
The Charismatic Magic of Linen Suits
The popularity of linen suits lies in their classic elegance and timeless appeal. They are typically made from lightweight fabric and are often considered dressier than other suits. Linen suits are also more breathable than other fabrics and do not wrinkle easily. Besides, they also look great with a variety of different colour combinations. The linen suits for men are a great way to accentuate the personality and style, making an everlasting statement.
Factors to Consider Before Wearing a Linen Suit to a Wedding
The wedding is a special event that needs to be planned in advance. Being an epitome of sheer grace and formalness, the linen suits are becoming a staple in men's fashion-forward wardrobe. Consider these factors to nail the look while wearing a linen suit at a wedding!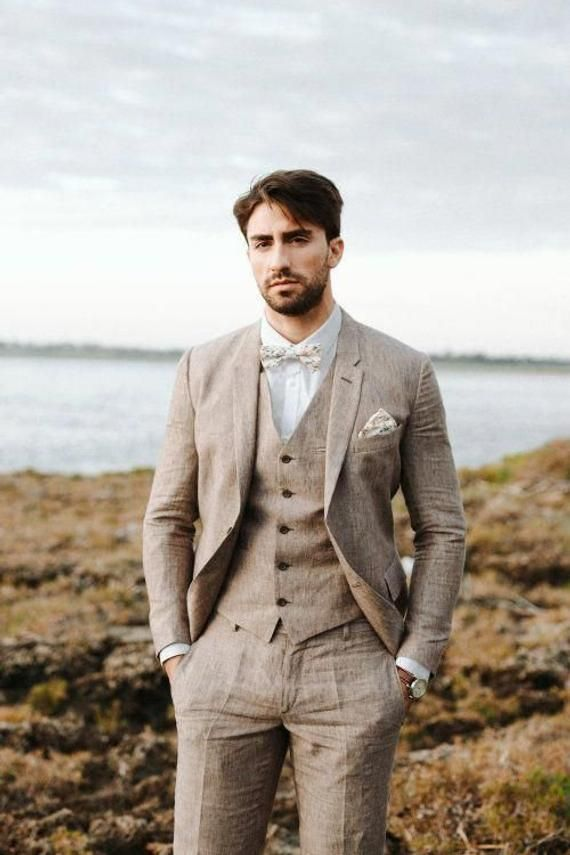 Type of Suits
There are two common styles of suits which are as follows:
Three-Piece Suit: It is a form of business casual attire consisting of a jacket, trousers, and waistcoat. The suit is typically made of wool or worsted wool cloth. Being the most formal part of the suit, the jacket may be double-breasted, single-breasted or notched lapels. The trousers are straight leg or slightly tapered at the bottom. The waistcoat often has an attached vest top with buttons on it and may have a shawl collar or peaked lapels.
Two-Piece Suit: It is a type of premium menswear consisting of a jacket and trousers. These suits are often worn as formal business wear, although they can also be worn in casual settings. The jacket and trousers are usually made from the same fabric.
Colour Scheme of the Suit
The colour scheme for a wedding suit for men can make or break the whole affair. It should be chosen carefully, complementing the bride's attire alongside the theme and decoration of the venue. You can go for pristine white, shades of blue, or black for a dapper appearance.
Conclusion
Whether it is a beach wedding or an indoor one, a linen suit will make you feel more relaxed, and it will be easy to move around in. Made with natural fibre, linen suits provide a more sophisticated look. You can accentuate the outfit with a classic tie, cufflinks, pocket squares, bow ties, etc. These accessories can give you a touch of style and confidence when going to a cherishable event like a wedding ceremony.