The choice of shoes is important when choosing clothing, and they also say a lot about the wearer. Sometimes choosing the proper shoes can be challenging, therefore we are here to help. When choosing a wedding gown, we frequently pay close attention to our suit, tie, and other accessories. However, you should be aware that since shoes are the basis of your outfit, choosing the right pair is of utmost importance. It will be your best friend throughout the entire event, so you must give it time and thought. Your wedding day is a once-in-a-lifetime occasion where you must perform numerous responsibilities and enjoy yourself; as a result, a fashionable pair that is comfortable should be your top priority.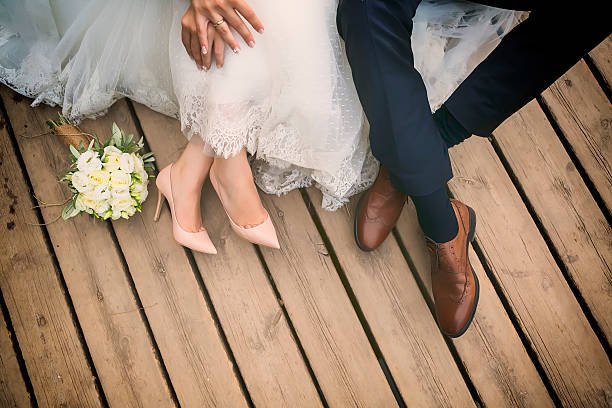 You've finally found the ideal tuxedo or wedding suit that you adore and, perhaps more importantly, that your bride adores. Thank you for taking the appropriate action toward successful wedding preparation. What wedding shoes for guys should I choose for my wedding is the remaining dilemma. When it comes to wedding dresses and footwear, brides undoubtedly have a lot of alternatives. However, grooms also have a lot of shoe options. Let's examine them now.
Black Wedding Shoes for Men
You cannot go wrong with this because it is such a lovely, classical piece. Black continues to be the most elegant hue and is frequently used for weddings of all kinds. Reach for common black Oxfords and choose varieties such as those with a cap toe, plain, or with lovely broguing at the front if you want to keep the look timeless and basic. In actuality, whichever option you choose, you will probably be able to wear these shoes in the years that follow the wedding. For grooms, black wedding shoes are undoubtedly a classy but also useful alternative.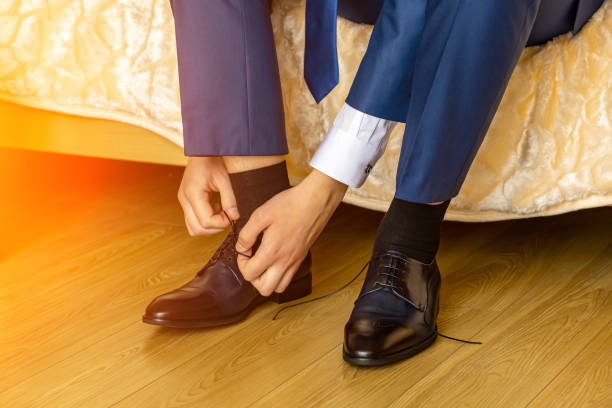 Tuxedo wedding shoes
The most elegant option for groom shoes is a pair of tuxedo shoes. Matching your wedding suit, these Oxford shoes have a clean, shiny appearance and a straightforward style that is timeless. Tuxedo shoes are so distinctive and elegant because they are so classic, they have barely changed over the past century. You will essentially be dancing the night away at jazz bars wearing the same shoes as males from the 1970s and 1980s. Tuxedo shoes have such impact and style. Make sure you have the appropriate outfit ensemble to go with them since formal tuxedo shoes are only black and worn with tuxedos.
Brown Wedding Shoes
Brown wedding shoes are a wonderful alternative for your big day. Given that it is typically viewed as less formal than black, brown is not advised for strictly Black Tie weddings. Will you choose Oxfords among the plethora of brown shoe alternatives available to you? Will you, on the other hand, keep it more informal with Derbies? Due to their open lacing system, derbies are less formal; choose them if you're going to a less formal wedding.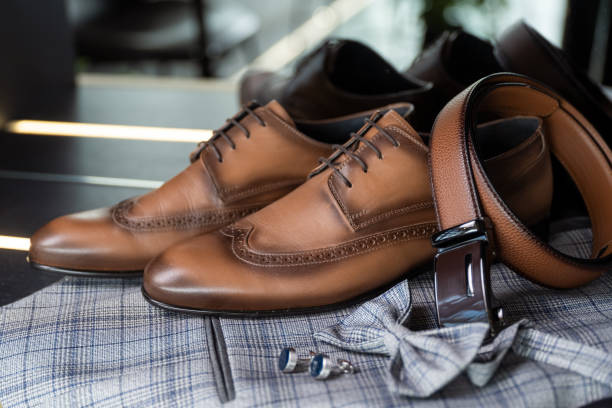 Marriage Loafers
The demand for wedding footwear has greatly expanded in recent years. Loafers are a popular choice for summer weddings because they combine comfort and style. They are simple to put on (and take off, if you're dancing barefoot), and they look lovely with a linen suit. The most formal varieties are penny and tassel loafers, however, horsebit loafers are acceptable if your wedding is on the beach or in a garden.
If you wear loafers as the groom, the wedding dress code should be informal and relaxed because the informality of the wedding is clear in this instance. Remember to put on invisible loafer socks to ensure your comfort throughout the day and night.