A men's suit is a symbol of success and supremacy. It is one of the most versatile and luxurious pieces of clothing that you will ever buy. Thus, it becomes more essential to pick the suit which perfectly complements your body type and personality. While speaking of the men's suits, impeccable fitting is paramount. Likewise, you need to consider the occasion for which you require a sophisticated suit. From deciding the style to the colour, choosing a suit can be a daunting task. Go through the following guide to understand what all goes into suit selection to make your purchase worthwhile!
Determine the Reason for Which You Need the Suit
There is no dearth of options when buying suits for a man. Since they are one of the most expensive sartorial pieces, you must know the reason behind your purchase. Some men prefer to wear suits at the workplace or while attending business meetings to make an everlasting impression. On the contrary, some might wear suits at special occasions like revelries, ceremonies, and festivities. Determining the occasion helps you know which suit type will be apt for you.
Selection of the Fabric and Color
If this is your very first purchase of a suit, it is better to go for an evergreen fabric, i.e., wool, as it can be worn throughout the year. Besides, cotton-crafted suits are suitable for fall, spring, and summer. Aside from these two materials, you can also give a shot at linen suits. They are best appropriate for summer.
Speaking of the colours, give more preference to the darker shades for more versatility. A midnight blue or a shade bolder than a basic navy would work well for first-time suit buyers. Such colours can be effortlessly transitioned from day to night looks.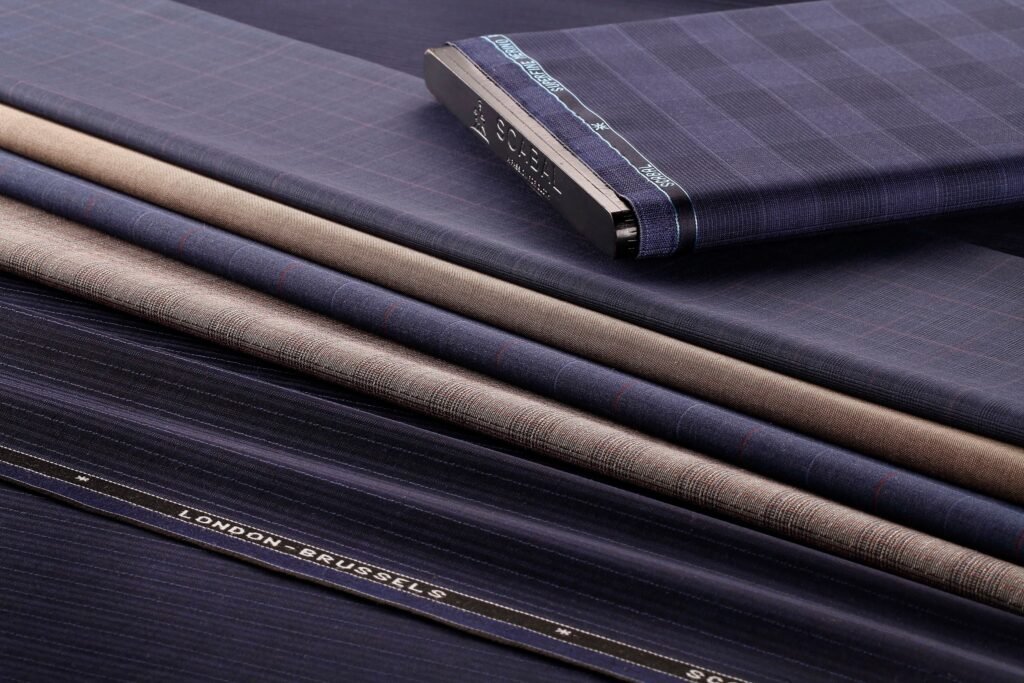 Deciding the Number of Buttons
Another crucial factor in deciding is how many buttons you need on your suit. Most fashion labels these days are experimenting with two-button suits, revamping them for a contemporary look. These are ideal for men with shorter torsos. On the other hand, a three-button suit flaunts retro-inspired aesthetics and is more comfortable on your chest.
Occasions Necessitating You to Wear a Suit
Be it bespoke suits or readymade ones, you must know the occasion and formalness of dressing to get your dream suit. Usually, men wear classic suits at work and formal meet-ups. In the same way, tuxedos are mainly recommended for weddings or prom nights. Emphasising casual suits, they resemble tailored suits and flaunt customised designs for a chicer appeal.
Common Types of Suit Fittings:
Classic-fit Suit: If comfort is your priority, the classic-fit suits are an excellent option for you. They go well for formal events, special occasions, and weddings, offering a loose fitting near the chest area.

Slim-fit Suit: It is an ideal option for skinny body types. The slim-fit suits enwrap gracefully to your silhouette for a contemporary look. These suits give a more polished and refined aesthetics to your outfit.
Assortment of Suit Specialties
Three-piece suit: They have a charming and stylish flair to them. It comprises a standard men's suit and a vest or waistcoat to be worn underneath a jacket.

Tailored Suits: Whichever pattern or finishing you need; suits tailoring helps you achieve that. You can get the suit customised by a tailor to suffice your fashion taste and preferences.

Double-breasted Suits: They represent an amalgamation of modern and vintage styles. A double-breasted suit has broader front flaps overlapping each other for a more elegant panache.
The Final Words
Whether purchasing the suit online or from a branded store, ensure it fits you correctly. Moreover, if you are getting a bespoke suit, give your accurate measurements for high-precision fittings. Consider your posture, shoulder width, and body type before selecting any style.